Henson AL13
Henson AL13
The Henson AL13 puts an end to shaving irritation and cuts, while also making your skin feel comfortable and smooth. We created this to give you a whole new shaving experience unlike any other. Your skin will feel amazing after using this razor.
• Canada and USA: Orders on average take 3.7* business days to be delivered.
• International: Orders on average take 5-8* business days to be delivered.
• 100 day satisfaction guarantee.

*Delivery time is based on the past 2 weeks delivery data.
Proudly designed, manufactured, and packaged in Canada.
Lifetime Warranty - pass it down from generation to generation.
Save The Environment - stop using plastc razors, use metal!
From space parts to razors - the Henson Shaving Story
"You're crazy" they said.

"Why would you use your 20 years of aerospace experience to make razors?"

Maybe they were right. But when we see a problem, we solve it. Our family makes components for the Mars Rover, International Space Station, and low orbit satellites.

And now, we make razors.
A baby smooth shave.
One pass. Zero irritation
Skin irritation is totally avoidable.

Rather than cutting beneath the skin, the Henson AL13 shears the hair precisely at skin level.
Buy once. Use forever.
Made from aerospace grade aluminum, and manufactured at our aerospace facility in Ontario, Canada, our razor is built with the same AS9100 aerospace standards required to create satellite components.
We want the best razor, not the best razor business.
No subscriptions.
No custom blades.
No planned obsolescence.

The only chance for Henson to compete with the deep pockets of the big companies and bring this to the masses, is to create a razor so good that you can't help but tell your friends about it.
A smart investment for your skin
(and your wallet)
*Our razor works with any standard double edge blade you can buy almost anywhere (local supermarkets, shaving shops or online)
What people are saying about the Henson
Extreme precision makes all the difference.
With a blade that only sticks out roughly half the thickness of a human hair (0.0012"), this razor eliminates all the unnecessary blade exposure. This means less blade flex and therefore less chatter along your skin.

Chatter is what causes razor burn and irritation.

This razor is only possible to produce because of the lessons we learned from aerospace manufacturing the last 20 years.
What you'll get and when you'll get it.
Henson AL13 aluminum razor

Astra platinum double edge blades (5pk)*

Lifetime Warranty

Delivered within 4 business days**
*The average user will get a month's worth of shaving or more from the 5pk of blades included. Additional blades can be purchased from anywhere and it works out to less than 50 cents per month.

**90% of our US and Canadian customers receive their razors within 96 hours.
One bad shave is enough to ruin the day.
Frequently Asked Questions
Customer Reviews
Write a Review
Ask a Question
Filter Reviews:
razor
shave
Henson
blade
skin
safety razor
irritation
cuts
angle
design
I recommend this product
I'm expecting this to last a while...
Well made. Solid. My experience so far has been no worse than my old Gilette, so I'm happy. Although to be honest, I've never been very 'proficient' at shaving, especially under my chin (where the hair seems to grow in multiple directions), so my review may be akin to a non-musician critiquing a Fender Strat. Who knows? With time my technique may improve and I might surprize myself By far my MAIN REASON for purchasing this razor was that I fully expect to never have to buy 'expensive' blades ever again. I'm a bit of a tight-***. A couple of suggestions (perhaps?): 1. The handle could perhaps be made with faceted sides? I usually have wet/soapy hands when trying to unscrew the handle, and facets might provide more purchase. 2. The option to mix-and-match colour options for handle and head would be 'snazzy'.
07/23/2021
Michael C.

United States
I recommend this product
Great Mild Razor
The Henson AL13 has been a great performing razor. I tried multiple blades (Derby Platinum, Voskhod, Dorco Prime Platinum, Gillette Platinum, and Astra Green) I must say that the Dorco Prime Platinum and Astra Green gave me a very close and irritation free shave. For some reason the Derby irritated my neck. The key to any close shave is lubrication so make sure you use a good quality pre shave and soap. The Henson is my go to razor and I have been extremely impressed with the superb quality of this razor. Great product!
07/23/2021
Patrick M.

Canada
I recommend this product
Cut above the rest
Shaves better than any big brand multiblade I tried prior. Nice that it's Canadian made too.
07/23/2021
Mikael B.

Sweden
I recommend this product
Amazing shave
Allready the first shave was great. No tearing and no cuts. The only thing marring the experience was Federal Express who are worse than the Swedish Mail, which in it self is a wtrange feat.
07/22/2021
Kevin S.

Canada
I recommend this product
A fine product
I shave both my face and head daily and I am very happy with the results. I had been using a razor built specifically for shaving you head but it suffered from the same problems as most razors today in that the blades are expensive and attached to a plastic cartridge. At the end of the day my new safety razor does just as good a job if not better. I like the fact that I can shave my scalp in one direction and I have a clean blade ready to go in the other direction, something my purpose built razor can not do. I can't say that my new razor shaves any better than the ones I could buy for about one third the price at my local pharmacy but having this beautifully made razor designed and built in Canada is well worth the extra cost. I also like that the blades are so inexpensive that I change them much more often resulting in a much more comfortable shave. Love it!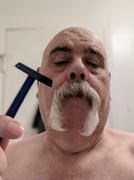 07/22/2021
Robert W.

Australia
I recommend this product
It just works
If you love to think about shaving and really concentrate while you're doing it, this razor is not for you. I'm five days into using it and every day shaving becomes more automatic. That's a big contrast with my previous wet razor, which could shred my face if I dared to zone out for even ten seconds. I don't get shaving irritation, my issue has always been nicks and cuts. I got a couple of nicks on my first few shaves, while I got used to the lighter weight and longer handle of this razor, but since then I just don't cut myself. What actually pushed me over the line to buy this razor is that it ships with Alpha blades. I have always found Alpha blades really prone to nicking, and I thought that any company with the guts to ship their product with such cheap blades must be pretty confident in what they are selling. It turns out that confidence is justified and I'm very glad I made the purchase.
07/22/2021
matthew c.

United States
I recommend this product
Best of the basic safety razors
I have tried several of these and I have to say this is the best one. However, it still gave me razor bumps, cut me, and generally didn't perform as well as my gillette 5 blade razor. I want to be hip but it just doesn't give as good a shave as modern razors.