Henson AL13
Henson AL13
The Henson AL13 puts an end to shaving irritation and cuts, while also making your skin feel comfortable and smooth. We created this to give you a whole new shaving experience unlike any other. Your skin will feel amazing after using this razor.
International Disclaimer
Import duties, taxes, and brokerage fees are not included in the product price or shipping and handling cost. These charges are the buyer's responsibility as we are only charging the transportation fee for your order. You may check with your country's customs office to determine if there will be additional costs.

Delivery Expectations
• Canada and USA: Orders on average take 3.7* business days to be delivered.
• International: Orders on average take 5-8* business days to be delivered.
• 100 day satisfaction guarantee.

*Delivery time is based on the past 2 weeks delivery data. We do our best to provide the most accurate processing and shipping estimates possible. However, they are estimates and not guarantees. They may vary due to high volumes of orders, unforeseen delays on the couriers, and busy holiday seasons.
Proudly designed, manufactured, and packaged in Canada.
Lifetime Warranty - pass it down from generation to generation.
Save The Environment - stop using plastic razors, use metal!
Designed Without Compromise
The Henson is designed to present the blade at the optimum shaving angle, with as little blade exposure as possible.

We then set out to engineer a manufacturing process to meet the tolerances required, without compromising from the design.

The result is an alarmingly safe shave that eliminates irritation.
A baby smooth shave.
One pass. Zero irritation
Skin irritation is totally avoidable.

Rather than cutting beneath the skin, the Henson AL13 shears the hair precisely at skin level.
Buy once. Use forever.
Made from aerospace grade aluminum, and manufactured at our aerospace facility in Ontario, Canada, our razor is built with the same AS9100 aerospace standards required to create satellite components.
We want the best razor, not the best razor business.
No subscriptions.
No custom blades.
No planned obsolescence.

The only chance for Henson to compete with the deep pockets of the big companies and bring this to the masses, is to create a razor so good that you can't help but tell your friends about it.
A smart investment for your skin
(and your wallet)
*Our razor works with any standard double edge blade you can buy almost anywhere (local supermarkets, shaving shops or online)
What people are saying about the Henson
Extreme precision makes all the difference.
With a blade that only sticks out roughly half the thickness of a human hair (0.0013"), this razor eliminates all the unnecessary blade exposure. This means less blade flex and therefore less chatter along your skin.

Chatter is what causes razor burn and irritation.

This razor is only possible to produce because of the lessons we learned from aerospace manufacturing the last 20 years.
What you'll get.
Henson AL13 aluminum razor

5 Pack of double edged blades*

Lifetime Warranty
*The average user will get a month's worth of shaving or more from the 5pk of blades included. Additional blades can be purchased from anywhere and it works out to less than 50 cents per month.
One bad shave is enough to ruin the day.
Frequently Asked Questions
Customer Reviews
Write a Review
Ask a Question
Filter Reviews:
razor
shave
Henson
blade
skin
cuts
face
irritation
safety razor
design
01/27/2022
Guy L.

Canada
I recommend this product
Henson AL13 razor
The AL13 seems to be the best razor of this type I've ever had. Guy
01/27/2022
Steve O.

United States
I recommend this product
WOW!
I can't believe what a difference this razor made. A good shaving cream and this razor has made me enjoy shaving. I never thought I would say that.
01/27/2022
Matthew C.

United States
I recommend this product
Good nostalgic shave
Pretty good. This is great for the daily shaver and I'd highly recommend. However, personally, I'm usually a once in every three days shaver and a single blade with minimal clearance between blade and housing for rinsing the excess stubble out makes it a more time consuming shave. Will do my best to start shaving more frequently because I do want to want to continue to use this product.
01/27/2022
John C.

United States
I recommend this product
Henson AL13 Review
Excellent! I love my blue AL13. Very smooth and I get a great shave!
01/27/2022
Gordon F.

United States
I recommend this product
Nice
Love the shave I get. Its a very crisp and precise shave.
01/27/2022
Daniel W.

Germany
I recommend this product
Love it
Previously I was using a Gillette Mach3, the blades are so expensive. Bought a Henson, loved it and bought two more (one for me just in case and one for my dad). I'm having a little issue with skin irritation but that's my bad - too much pressure, not making the skin wet regularly, shaving against the grain. I'm primarily using the razor for shaving my head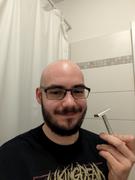 01/26/2022
Joe B.

Canada
I recommend this product
Great razor no skin breaks and shaves very well