Henson AL13
Henson AL13
The Henson AL13 puts an end to shaving irritation and cuts, while also making your skin feel comfortable and smooth. We created this to give you a whole new shaving experience unlike any other. Your skin will feel amazing after using this razor.
International Disclaimer
Import duties, taxes, and brokerage fees are not included in the product price or shipping and handling cost. These charges are the buyer's responsibility as we are only charging the transportation fee for your order. You may check with your country's customs office to determine if there will be additional costs.

Delivery Expectations
• Canada and USA: Orders on average take 3.7* business days to be delivered.
• International: Orders on average take 16-21* business days to be delivered.
• 100 day satisfaction guarantee.

*Delivery time is based on the past 2 weeks delivery data. We do our best to provide the most accurate processing and shipping estimates possible. However, they are estimates and not guarantees. They may vary due to high volumes of orders, unforeseen delays on the couriers, and busy holiday seasons.
Proudly designed, manufactured, and packaged in Canada.
Lifetime Warranty - pass it down from generation to generation.
Save The Environment - stop using plastic razors, use metal!
Designed Without Compromise
The Henson is designed to present the blade at the optimum shaving angle, with as little blade extension as possible.

We then set out to engineer a manufacturing process to meet the tolerances required, without compromising from the design.

The result is an alarmingly safe shave that eliminates irritation.
A baby smooth shave.
One pass. Zero irritation
Skin irritation is totally avoidable.

Rather than cutting beneath the skin, the Henson AL13 shears the hair precisely at skin level.
Buy once. Use forever.
Made from aerospace grade aluminum, and manufactured at our aerospace facility in Ontario, Canada, our razor is built with the same AS9100 aerospace standards required to create satellite components.
We want the best razor, not the best razor business.
No subscriptions.
No proprietary blades.
No planned obsolescence.

The only chance for Henson to compete with the deep pockets of the big companies and bring this to the masses, is to create a razor so good that you can't help but tell your friends about it.
A smart investment for your skin
(and your wallet)
*Our razor works with any standard double edge blade you can buy almost anywhere (local supermarkets, shaving shops or online)
What people are saying about the Henson
Extreme precision makes all the difference.
With a blade that only sticks out roughly half the thickness of a human hair (0.0013"), this razor eliminates all the unnecessary blade extension. This means less blade flex and therefore less chatter along your skin.

Chatter is what causes razor burn and irritation.

This razor is only possible to produce because of the lessons we learned from aerospace manufacturing the last 20 years.
What you'll get.
Henson AL13 aluminum razor

5 Pack of double edged blades*

Lifetime Warranty
*The average user will get a month's worth of shaving or more from the 5pk of blades included. Additional blades can be purchased from anywhere and it works out to less than 50 cents per month.
Frequently Asked Questions
Customer Reviews
92
reviewers would recommend this product
Write a Review
Ask a Question
Filter Reviews:
razor
shave
Henson
blade
skin
safety razor
experience
irritation
beard
design
I recommend this product
Unexperienced but impressed
First off, the "bad" thing: the razor clogs quite easily when shaving a sizeable patch of slightly longer beard/hair (5 mm or something). This is however a very minor problem since the clogging is super easily rinsed away. Rinsing this product in general is very easy. I have not shaved with a different wet razor, but at least the AL13 handled my teenage face with medium acne quite well. Only 2-3 zits were cut open, otherwise my cheeks felt the smoothest in a long time. My father used to bleed from his adam's apple after every shave for as long as I've known him. He got an AL13 as well and did not hurt himself at all. That must mean something!
08/15/2022
John K.

Netherlands
I recommend this product
Takes a bit long but same results.
I've also used a 4 or 5 blade safety razor from a popular brand. Normally I once every 6 or 7 days and because of this I use an electric trimmer first to remove most of the hairs because if I use the 5 blade it gets clogged up and becomes very dull and I have to throw it away after 1 or 2 times using it. This time I used the Henson razor with an 8 day old beard. Sharpness: very! The blade won't remove as much as the 5 blade razor so you will have to spent a bit more time on shaving. Clogging: barely. Compared to my old razor it barely clogs up. Rinse it under water and is completely clean. Ease of use: my old razor has a head that tilts to the shape of your face. So it says. The only time I see this being helpful is when you shave around the lips or chin. With the Henson razor you will have to pull your skin more tight with using a towel and angle the razor to get to all the spots. This wasn't a big problem for me. Safety: the first time using it with a week of facial hairs and I had no cuts at all. My skin wasn't irritated or burning. The Henson razor gave me a better result than my old razor. Smoothness: I got a better result than my old razor! Way better. Because my skin wasn't irritated during shaving I could feel better where my face wasn't completely smooth. Price: the blades for the Henson razor are way cheaper than my old razor. 5 cents compared to 3 euros. Eco friendly: the razor and blades are completely made out of metal so no plastic will land in trash. Verdict: the Henson razor gave me a beter result shaving then my old razor. I've realized that the "features" of my old razor aren't needed to get a better result while spending a lot less money.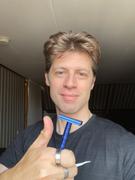 08/14/2022
Brian B.

United States
I recommend this product
Great Razor, do not miss my cartridge razor at all.
Feels good, shaves well and now I am only paying a nickel a shave (2 shaves per blade). I was worried about nicks because of my sensitive skin but I have had no issues.
08/14/2022
Joy W.

United States
I recommend this product
Best razor I've used
I can finally shave my legs without any nicks and without having to go back over any areas. My skin has never been so smooth. Zero irritation. And I haven't had a single ingrown hair since I've been using my Henson razor. My man loved mine so much he bought his own, after originally thinking I was nuts for paying "so much" for a razor. I'd pay twice as much now that I know how awesome it is.
08/13/2022
Brandon J.

United States
I recommend this product
Way better than my old safety razor
Used disposable plastic razors all my life then decided to switch to safety razors for environmental reasons. First safety razor I used gave me a bunch of cuts but this henson razor hasn't cut me at all, not even once. Absolutely love it and have no complaints!
08/13/2022
Dennis R.

Sweden
I recommend this product
I will NOT go back to my old shaver.
I stopped shaving my beard 5 years ago due to irritation, pimples, and certain strands of hair starting to grow inwards, becoming inflamed and causing issues for months (no matter how clean I was before the shave, how much I sterilized the blade and how much I tried to sterilized my skin with after shave afterwards). The medical advice I got was not to shave or not to shave as tightly to my skin. HOWEVER.... It seems like the Henson Shaver solved this, I have no irritation, no pimples, hairs don't grow inwards, and I believe the biggest reason for my issues was that the Gilette blades I used were unreasonably expensive and I just stuck around with the blades for waaaay too long. With the Henson Shaver I have no trouble switching out blade whenever they go dull. And the price getting new ones are extremely cheap My only disappointment with the shaver is that the marketing make it seem like you will cut all strands in "one go". Sure, this is the case on my cheeks where the strands are thinner and fewer. On my chin and mustache on the other hand, I do need to go over an area several times and it isn't that exceptionally smooth experience that the marketing tells you. But I didn't give other brands a hard time about it before, so no reason Henson should be given a hard time about it. I guess it's just the state of things when it comes to these kind of commercials. With all this being said, The Henson Shaver has helped me A LOT, and it is SO much better than anything I tried in the past. So thanks Henson, for making me a clean shaved man again! :)
08/12/2022
Catherine S.

United States
I recommend this product
Great razor
The razor was easy to put together and use!